The InSync Media team welcomes you!
InSync Media is a digital marketing agency dedicated to the transformation and growth of small businesses. We specialize in branding, web design, social media, SEO, and online advertising.
Our team has a combined experience of over 40 years, and we make it our mission to keep up-to-date on every aspect of online marketing so that you don't have to.
Choosing a digital marketing agency to partner with you is a big step in your company's life, so let us know if you have any questions along the way. We offer a free discovery session. To get started simply fill out the contact form on the bottom of the page and we will set up a time to chat either in person (Montrose, CO area) or virtually.
To get started simply fill out the contact form on the bottom of the page and we will set up a time to chat.
Laura Williams
CEO of InSync Media
Laura Williams is the founder and CEO of InSync Media. She ran a successful graphic design freelancing business for several years before starting InSync as a full-service marketing agency in 2014 by combining the talents of several other freelancers in her town to offer a comprehensive set of marketing services to small businesses. She has worked with SMBs across a range of industries including publishing, non-profits, retail, e-commerce, education, industrial manufacturing, and hospitality.
Read more about Laura
One of the highlights of her professional experience is mentoring the next generation of entrepreneurs.
InSync Media
regularly hires high school and college interns to give them on-the-job experience and professional qualifications. In 2018, she had the honor of working with a group of talented high school students to create a new website for their school through a nine-month internship program.She also has a strong background in marketing and operations, fundraising, and donor development for nonprofits, having previously served as the Creative Manager and Operations Coordinator for a non-profit based in Niles, Michigan.
Laura is the founder of the Montrose Virtual Chamber of Commerce, offering her unique perspective to educate and increase the profitability of the local business community.
As the "Chief Cheerleader" (i.e. fractional CMO) for EVO on Main, Laura is delighted to serve as one of the sponsors for the project currently in a funding round. She knows first-hand the power of community to build businesses that support individuals, families, and communities.
Mike Guess
Director of Online Marketing
Mike Guess has many years of experience in online marketing and SEO which started from an interest in eCommerce and selling products online. He has developed an innovative approach to SEO from running multiple online businesses.
Read more about Mike
Mike works as the Director of Marketing now for InSync Media helping businesses reach peak potential in search results through media outreach, SEO and online advertising with a focus on driving ROI through reaching the most relevant traffic groups.
A Texan at heart, Mike moved back to Colorado after 5 years of living in the Dominican Republic honing his web development and marketing skills working with other entrepreneurs in the eCommerce and services industries. Before that, he spent 6 years working with Fortune 500 companies such as South Beach Beverage Co., Pepsi Co., and IBC in account management, sales, and marketing positions.
A love of music led Mike to South Plains College in 2003 where he pursued a degree in music performance. While the music career was short-lived, it has remained a passion and he can still be found today playing with various musicians on the Western Slope.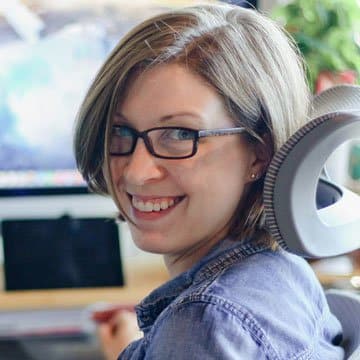 Chelsea Bingaman
Graphics & Web Designer
Chelsea Bingaman is our team's Graphics and Web Designer. She has been with InSync Media since 2016 and has a wide range of experience outside of graphics and web design. Chelsea does just about anything and everything behind the scenes for InSync including video filming/editing, email campaign building, SEO creatives, content writing, and more.
Read more about Chelsea
Prior to working with InSync Chelsea graduated from Fort Lewis College in 2014 with a major in Graphic Design and a minor in Marketing. Her first "adult job" was with the now inactive Abrams Strategic Group. The partners of Abrams later founded Proximity Space and opened their first coworking space. When Proximity Space opened, Chelsea naturally switched roles from full-time designer to Community Manager, honing her customer relations and party-planning skills. She learned to develop her own voice and create her design ethos before meeting Laura and joining the InSync Media team in 2016. (Side note: InSync Media is a proud coworker, operating out of the flagship Proximity Coworking Space in downtown Montrose CO.)
With a love of all forms of art, Chelsea always strives to bring that love into her work. She believes that every project has a voice and that it is her job to give that voice a visual representation.
Outside of the office Chelsea enjoys taking in rays, international travel, watching movies, reading fantasy novels, and hanging out with her cat (Dakota) and dog (Sirius).
Joshua Vogel
Project Manager & SEO Apprentice
Josh has a background in expert-tier customer and client care for businesses of all kinds. His interest in SEO and its appeal to his competitive nature appeared while working in Seattle, and it bled into experience with copywriting, the magic of Google Analytics, and ad copy in multiple arenas. Being a proud Colorado native, Josh moved back to the Western Slope, and pursues his hobbies of fishing, and off-roading… whenever his Jeep isn't broken that is.
Nicholas Rossis
Editor-In-Chief
Nicholas C. Rossis is a meticulous SEO copywriter with a Ph.D. from the University of Edinburgh, UK. He has 25+ years of professional experience in web development and Internet marketing. His love of the written word extends to writing fiction and children's books, many of which have won numerous awards.
Electra Tzepoglou
Copy Writer
Elektra holds an MA and an MSc in Politics and Social Economics from the University of Edinburgh, UK. Since the mid-90s, she has worked on over 500 web projects, specializing in social media and SEO copywriting for blogs and websites.
Allie Windham
Social Media Marketing Manager
Allie Windham is the content writer here at InSync. Her job is to write blog posts, social media posts, and other content for our clients. She started off at InSync Media as an Intern in late 2016, but was quickly promoted to content writer and editor. On the side, she loves to practice photography, read any fiction she can get her hands on, play guitar, and cuddle with her dog, Bo'az. She is currently a graphic design major at Colorado Mesa University.
Krystallia Papadimitriou, PhD
Content Writer/Researcher
Great online marketing starts with great content, and great content stems from passionate writers with diverse interests. Krystallia provides content for our clients across a range of industries from legal to agriculture and CBD. Krystallia always gravitated towards writing. Give her a blank page anytime to make her day. From her student years in France to 12 years of banking operations and then to 5 years in medical and online marketing, she has always been curious to research the most diverse subjects and write about them. A bookworm since a kid, she has found happiness in writing, editing, and working with authors. She is currently publishing her first historical fiction novel.
Anna
Media Outreach & SEO Assistant
Send us a message to get started!
InSync Media is Open
Monday through Thursday, 8 AM – 6:00 PM
Friday Policy: In order to refresh our creative energy and work on internal company goals, we are unavailable for Friday appointments. Please leave us a message, and we will be in touch on Monday. If you are a current client with an emergency, please text your InSync representative for assistance.