Is your high-risk business positioned to win in search?
Find out with a complimentary SEO audit for high-risk markets.
Get a high-risk SEO audit & marketing plan, and ask about a credit to use towards the marketing initiative best suiting your brand and business.
What Is Included in the SEO Audit?
We review your website, backlinks, authority, current rankings, brand awareness, online competition, and more. Then we create an audit with a high-level plan of action to win in search.
In only a few months InSync Media has dramatically improved our Domain Authority from a DA37 to a DA63 as well as increased our Top 10 rankings by over 290%. Their team is extremely talented and I would highly recommend them.
Current Rankings For Synchronicity Hemp Oil

High-risk markets like cannabis, CBD, Delta 8, vapes, supplements, nutraceuticals, skincare, food and beverage, etc. face a fierce battle for rankings to get them in front of a lucrative buying audience. 
Newcomers quickly discover that ranking against established websites is nearly impossible because they are going up against the best SEO experts in the world.
The competition is fierce, Google is constantly updating the algorithm to weed out spammy links, and organic page one spots are shrinking as more Google services roll out (Featured Snippets, Q&A boxes, maps, YouTube videos, etc.).
The bottom line is, SEO is not a game for amateurs. If you want to win, you need more than blogs and backlinks.
Does your SEO strategy include these six advanced SEO strategies that experts use to win in search?
[1] Create your SEO strategy to rank in these Google placements: Featured Snippets, Q&A, reviews, videos, listings, and ads if available to you.
[2] Utilize schema markup to give the algorithm relevant information, improve a SERP page, and drive more qualified traffic to your site.
[3] You need people searching for your brand; Google pays attention to your branded search as a popularity metric. Create a robust branded content strategy, both on-page content and a branded link strategy.
[4] Websites can keep content ranking at the top for years by simply refreshing and republishing your best-ranking evergreen content.
[5] Google understands semantic keywording and rewards website pages that cover a broad range of topically related information.
[6] Beat AI content generators with a strong website architecture that increases both the overall domain authority and the authority of pages.
Don't get left behind in a cut-throat online market! Your competitors are investing in SEO; do you have a plan to beat them?
Today, the SEO game is no longer about tricking search engine algorithms or cheating the system. It's about beating your competition and understanding what it takes to get to page one on Google and stay there for the long haul.
InSync Media, an SEO Agency headquartered in Colorado, has been helping companies in high-risk industries weather the storm of merchant account denials, advertising suspensions, and the dreaded Google Blacklist for over a decade. We want to show you that there is hope for growing your brand online, even in the most competitive industries.
Not ready to schedule an audit? Download our free 12-page white paper: "How High-Risk Industries Can Compete and Win In Search."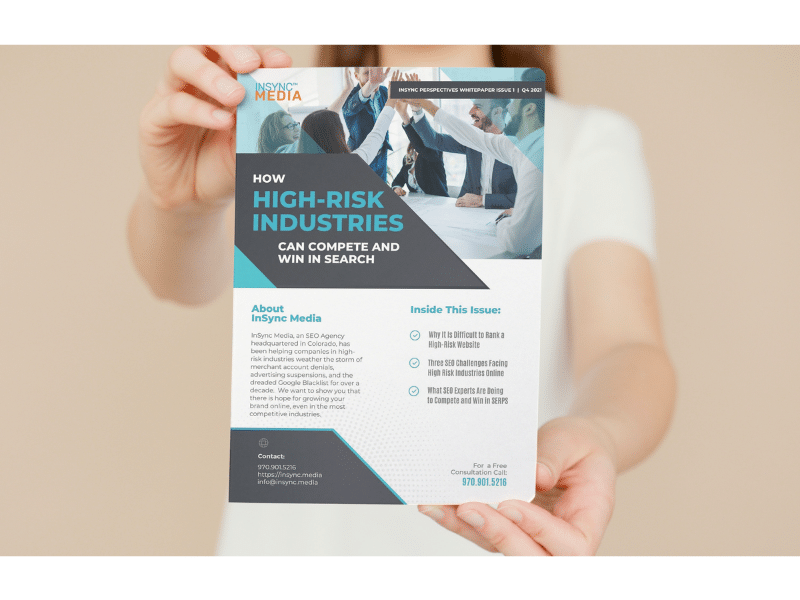 You are also invited to visit our FAQ page where we answer a great deal of your questions concerning marketing.