84% of Your Customers Read Reviews First
Can You Afford to Ignore Your Online Reputation?
If you're running a business, online reviews can be your best friend or your worst enemy. If your reviews are positive, they're a huge boon for your business.
After all, 84 percent of consumers trust online reviews as much as a personal recommendation from a friend. If you've got a few negative reviews sprinkled in there, though, it can be devastating for your business.
While it might seem like online reviews are out of your control, the fact is that there is one important tool in your marketing tool bag that you have complete control over. This tool earns trust with your customers and even generates more positive recommendations. This tool is online review management.
Here's what you need to know about this essential online marketing tactic.
What Is Review Management?
Review management is the process of proactively seeking feedback from customers, monitoring the responses, and replying to their comments.
The process ensures your reviews are representative of your customer experience and can boost your business and produce far-reaching benefits for your entire company.
4 Big Benefits of Review Management
While working with a review manager helps you get more online reviews, it goes much deeper than that. Here are a few of the biggest benefits the process has to offer:
1. Reviews Improve Local SEO
If you want to show up in more local search results, you need to invest in review management.
The first step in the customer journey is awareness, which means that customers head to a search engine to learn more about a company before they visit or call. If a customer can't find you in the search engines, though, they're going to opt for a company that shows up prominently.
If you take a proactive approach to manage your reviews, you're likely to earn higher Google rankings. This, in turn, helps you land more business and increases your bottom line.
2. Review Make Purchasing Decisions Easy for Customers
When customers can find and research you online, it makes their purchasing decisions much easier.
Did you know that 50 percent of customers who conduct local searches with their phone visit a store within 24 hours, and almost 20 percent of those customers make a purchase?
When your business has a solid star ranking, you're more likely to earn those customers, and they're more likely to feel comfortable and confident purchasing from you.
3. Reviews Allow More Rapid Problem Identification
Consistently monitoring your reviews allows you to identify what customers like (and what they don't like) about your business. This, in turn, allows you to identify and resolve problems and improve your customer service.
4. Reviews Build Trust with Your Customers
It may be surprising to learn that your current customers who take time to leave a review are very interested in your responses. While you don't want to get into a fight with someone over the comments section in a Google review, you do need to respond.
If you ask others for reviews, make sure you don't ask current employees or friends who are not at least potentially your customers. Also, don't pay another company to leave false reviews or offer rewards to customers for a review. This is a good way to get in trouble with Google, Yelp, and other websites, and it's illegal in many countries to do so. Only ask legitimate customers to leave you a review!
A Step-By-Step Guide to Responding to Online Reviews
We are going to lay out the process for review management using Google reviews as the example, although the process is similar for other major directories such as Yelp, TripAdvisor, and Facebook.
Do not leave a 5-star review on your own company. This comes across as tacky and insincere to your audience. While tempting, it is a conflict of interest and against Google's terms.
In particular, don't leave a review for your own company and use that space to defend yourself against a previous review. Below is an example of a business owner who did just that. While they probably felt justified in presenting their side of the story, how do you think this comes across to potential customers?
Utilize Google My Business. If you haven't claimed your free Google My Business account, do that first. Create a free account at business.google.com. If you have an account, start by logging into your Google My Business account and navigate to the reviews section. Reply to a review by clicking "Reply" below a review.
Respond to the negative reviews. Here is a suggested script you can use to diffuse the situation while avoiding an all-out war in the review comments.Hi [REVIEWER NAME], our goal is to always achieve 5-stars by offering our customers the best quality services. We welcome you to call us directly to discuss your experience further at [YOUR PHONE NUMBER]. –The Staff at [YOUR BUSINESS]
Respond to the positive reviews! Try something like this, then add personal details:Hi [REVIEWER NAME], thank you for sharing your 5-star review with us! We appreciate you choosing [YOUR BUSINESS NAME] and look forward to seeing you next time. –The Staff at [YOUR BUSINESS]

Truly you cannot afford to pretend your business' online reviews don't matter. In today's hyper-connected world of instant information, your reviews matter more than ever to your bottom line.
Need Some Help with Review Management?
It can be hard to know exactly what to say when someone leaves you a negative review. But it is vital to respond to every single review. We've written a free guide to help business owners know exactly what to say. Use our simple, fill-in-the-blank guide to respond with confidence and grace to your reviews, from one star to five stars.
Download "Five Ultimate Online Review Scripts" now! (No email required)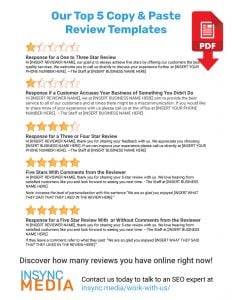 ---
Enhance Your Online Reputation with InSync Media
Your online reputation is everything, and we can help you protect and enhance it. With our Starter SEO program you get FREE online review monitoring services. Stay in-the-know about everything your audience is saying about you so you can respond in real time.
Talk to an SEO Expert Now